Welcome to the Continental Records Company Web Site
On February 8th 2023 Continental Records lost its greatest asset.
After serving the music needs of collectors, musicians, radio stations, hobbyists, and jukebox owners for over 50 years, Neil Patte passed away at home.
At the current time, we are not taking any orders until we take inventory, and determine the future path for Continental Records Company. We will keep you informed of our decisions.
If you have any questions, comments or memories about the business or about Neil, we'd be pleased to hear from you at conrecs@gocontinental.com.
Neil will be missed by many.
We feature one of the world's largest selections of all brand new 45 RPM records - more than 10,000 well known songs - from the 1950s through the 1990s. We sell CDs too - including all the most popular songs and artists from the 50s, 60s & 70s.

Our site is one of the world's most visited "vinyl" music sites and features more than 4500 picture sleeves and photos of the stars of popular music for the last 60 years!

Visit our location
- Read history - See current photos - Hear music! Visit

Free Shipping
Free shipping on all orders of $60 or more to USA and Canada - All 45s and all CDs
Audio Controls
This page has 5 (random) full-length 45 RPM songs
They will take about 15 minutes to play (Enjoy!)
No songs playing in your internet browser? Send us E-Mail
Continental Records Free Resources
Our resources are really completely free for all visitors to our web site and include more than 20 years of research. They have no ads, no "cookies" and no connections to any external web sites.
On our web site now - Click on underline
How Much are Your Old Records Really Worth?
The most visited "Records Value" site on the internet - 2 Million visitors since 2011
The 4000 All-Time Favourite Records of the 1950s
The 7000 Most Popular Records of the 1960s
The Directory of Canadian Recruiters
Get your next job through a Canadian or US Recruiting firm - absolutely free
The Ultimate TV Show Themes Collection 1947-1990

3033 Themes from 2197 TV Shows - Mostly USA but also Canada, UK, Australia
Includes more than 2 hours of TV Themes sound files
The Ultimate Surf Music Instrumental Collection 1958-2017

697 Surf Music Instrumentals by 360 Bands - includes 44 full-length sound files
The Ultimate Rockabilly Music Collection 1950-2020

952 Rockabilly Tunes by 631 Bands - includes 76 full-length sound files
The Ultimate Twisted Tunes 45 RPM Collection 1948-1981

Featuring CBs, choppers, cocaine, dames, death row, drinking, drugs, escape, gambling,
Gov Wallace, hippies, LSD, Martians, middle age, misery, prison, smoking weed, squaws,
rigs and more.Includes 160 minites of sound files.
Coming Soon
The Ultimate Rockin' '50s Collection 1950-1959
987 Rock & Roll Tunes from the 1950s by 711 Artists / Bands
About Continental Records Company
| | |
| --- | --- |
| | We commenced operation in 1971 with the purchase of all the remaining 45 RPM stock of Zirkon Record Company of Montreal. Zirkon produced records between 1958 and 1963 with licensing from many USA labels including Roulette, End, Gone and Coed |
We are not a "vinyl store" or a "collector store." We do not specialize in used, rare or "original label products - we are a 45 RPM record sales company that features one of the world's largest catalogs and inventory of brand new 45 RPM records and thousands of unique oldies CD titles.

Read more, see more, hear more! Visit our location - read history, see current photos of our operation, meet the President, hear more music. Click here
We Promise You "Excellent" Rated Customer Service
Customer service is the single most important factor in a company's success. Offering exceptional customer service at every level in an organization is the key factor that determines to what degree a business or employee survives, thrives and stands apart from their competitors.
Your Privacy, Safety & Security
Continental Records operates a SSL secure site (HTTPS). In 2021 we applied for and received certification to operate at this highest level of security.
Continental Records Company Ltd complies with the Canadian Standards Association's "Model Code for Protection of Personal Information in Canada" and the Federal Government's "Personal Information Protection Electronic Documents Act." (2004)
Every order comes directly to the owners of this business. No employee has access to your credit card information. We do not sell, supply, barter or trade any information with any other firms, organizations or individuals. Your privacy and security is fully protected and all information you send us is sent in complete confidence.
More Information?
More questions about our products or services? Please feel free to contact us. Neil Patte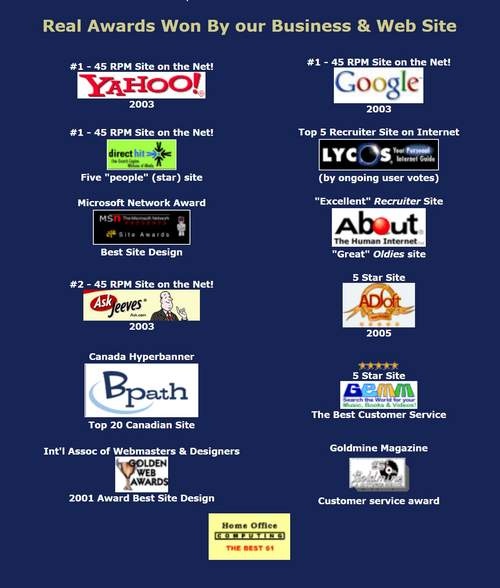 ---
Most recent page review
2021 09 02
---
Page revised and counter started 2021 07 04